CBD White Widow
autoflower seeds
CBD White Widow is part of arguably the most popular strain family in the world. So when you find yourself walking down the streets of Amsterdam and smell the familiar cannabis aroma, odds are this is White Widow.
Jump to description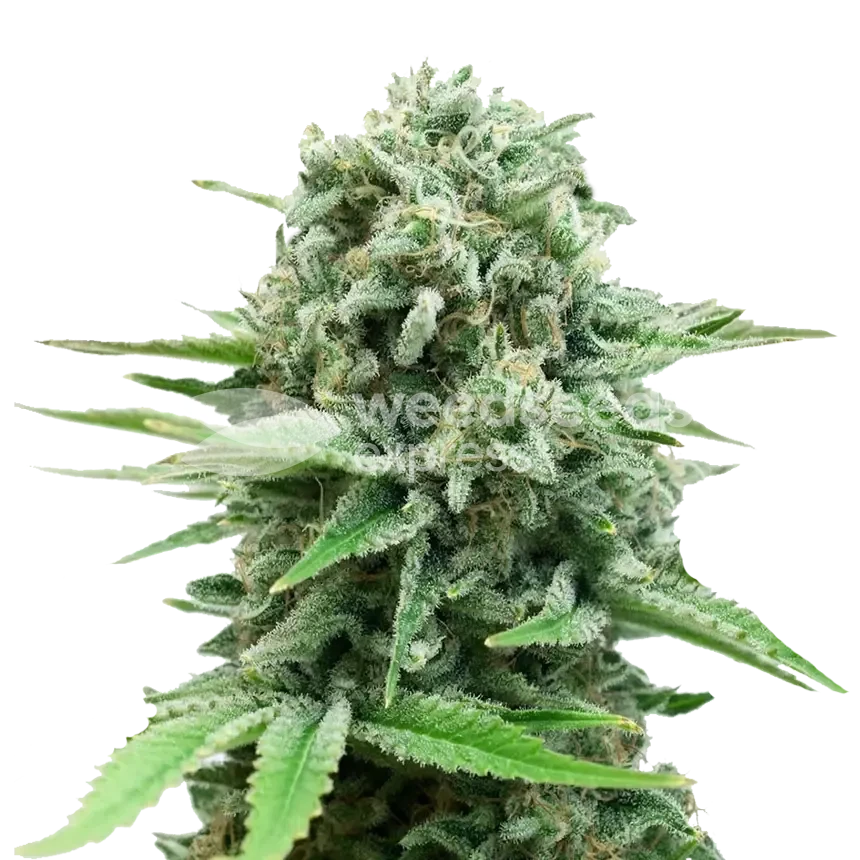 CBD White Widow autoflower Strain Info
Genetics
White Widow XXL Auto x Auto CBD
Yield indoor
400-450 grams per m2
Yield outdoor
60-170 grams per plant
Flowering time
70-77 days
Cultivation
Indoor, Outdoor, Greenhouse
Climate
Temperate, Mediterranean, Arid, Tropical
Flavors
Citrus, Fruity, Lemon
Effects
Relaxed, Calming, Sleepy
Terpenes
Beta Caryophyllene, Gamma Terpinene, Humulene
CBD White Widow autoflower seeds
With the earthy aroma infused with sandalwood, herbs, and spices, this classic strain emits a strong scent.
While White Widow is praised for its potent effects due to the exceptionally high THC levels, we decided that everyone should be able to enjoy these world-renowned marijuana genetics.
So if you want to try the White Widow strain, but have a low tolerance for THC or don't like the potent psychoactive effects, we are now offering White Widow autoflowering CBD.
This auto CBD strain offers (almost) all the original traits of the original, with increased CBD levels. The addition of ruderalis genes ensures a virtually effortless growth!
Are you ready to learn more about this CBD-rich autoflowering variety of the original White Widow? Continue reading! Are you a more advanced grower and are hunting for a version of this amazing legendary strain with an even bigger yield, and higher CBD levels? Make sure you also check out our CBD White Widow feminized seeds.
Why you should buy auto CBD White Widow seeds:
High CBD variety of a true legend

All the delicious quintessential flavors and aroma

Gently relaxing physical effects
Growing CBD White Widow auto seeds (indoor and outdoor)
This versatile plant is easy to grow indoors, making her suitable for beginners.
The high resistance to mold and heat also makes her an excellent outdoor cannabis plant.
CBD White Widow prefers a sunny and warm climates for optimal performance. Provide her with enough light, warmth, and sunshine and the auto White Widow CBD marijuana seeds grow into beautiful plants with dense buds dripping with CBD-rich quality resin.
While growing, the White Widow autoflowering CBD feminized plant has a compact frame with sturdy branches, with short internodes and dark green leaves.
However, her most distinctive physical trait has to be the thick buds covered in sparkling white trichomes, to which she owes her name.
And, as the name already suggests, these are autoflower seeds, your White Widow auto CBD are not dependent on any light cycle for them to enter the flowering phase. Plus, she is feminized as well, which means you do not have to worry about unwanted males ruining your crop cycle.
Flowering time
CBD White Widow auto plants have an average flowering phase of 70 to 77 days.
For outdoor growers, this means you will be able to harvest twice a year if you plant early enough in the season.
Plant height
Growing indoors, your CBD White Widow autoflower cannabis seeds will grow to an average height of 80 cm to 140 cm.
Outdoors, she remains manageable and reaches an approximate height between 60-150 cm. This makes daily life much easier if you prefer growing discreetly.
CBD White Widow auto yield
CBD White Widow autoflower is capable of producing a very decent yield.
Indoor growers should be able to realize yields of up to 450 grams per m².
Growing outdoors, your harvest can reach up to 170 grams per plant.
Tip
Use a SOG setup to obtain the highest possible yields.
Effects of CBD White Widow
Auto CBD White Widow contains 50% Indica, 30% Sativa and 20% Ruderalis, and has a THC to CBD ratio of 5 to 7.5%. CBD being the dominant factor here offers many benefits to this gentler strain.
You'll experience a mildly uplifting boost that focuses mainly on the mind, rather than the body. You will feel calm and at ease right away. Perfect to relief muscle tension and relax deeply after a hard day at work. Furthermore, a boost of creativity will accompany an enhanced sense of focus, allowing you to think more clearly and concentrate better.
Medicinally, CBD White Widow auto-fem can help battle fatigue, stress, and depression, as well as offer relief from migraines.
Unlike the THC-rich White Widow, you will not experience paranoid effects with everyday use.
Side Effects
A perfectly balanced CBD-rich hybrid, White Widow CBD auto does not have any significant side effects. However, remaining hydrated will minimize dry eyes and a dry mouth.
Smell and taste
The quintessential fragrance we all know and love from the original White Widow is, of course also present in this variety.
A citrus fruity, earthy aroma infused with sandalwood, herbs, and spices as well as floral notes can be detected.
The citrus-like flavor is reminiscent of proper old-school weed when inhaling.
Origin
This amazing creation consists of White Widow XXL auto x Auto CBD. White Widow has been a permanent menu item at almost every single Dutch coffee shop since the 1990s. Not very surprising, as these lowlands are the birthplace of this legendary strain.
The best CBD White Widow autoflowering seeds for sale at Weedseedsexpress
At Weedseedsexpress, we sell cannabis seeds with incredibly high THC levels, as well as strains that offer high CBD levels. We offer you the highest quality seeds, guaranteed delivery, a stellar customer support, and a germination guarantee on every order.
Especially for growers that want the best of both worlds and like to take advantage of the medicinal aspects, but prefer a more bearable effect: The legendary White Widow is finally available as an autoflowering CBD strain.
So, if you want to grow your medicinal cannabis almost effortlessly, the autoflowering variety of this great legendary strain is the one for you! Order your CBD White Widow auto seeds today at Weedseedsexpress.
What is the flowering time of Alien OG?
Alien OG flowers for 56 days to its fullest potential.
Payment & Delivery
You might also like these seeds
CBD White Widow autoflower seeds alternatives