CBD Kush
feminized seeds
Are you looking for a unique weed where the THC level equals the CBD content? Then check out the possibilities of growing our CBD Kush feminized weed seeds.
Jump to description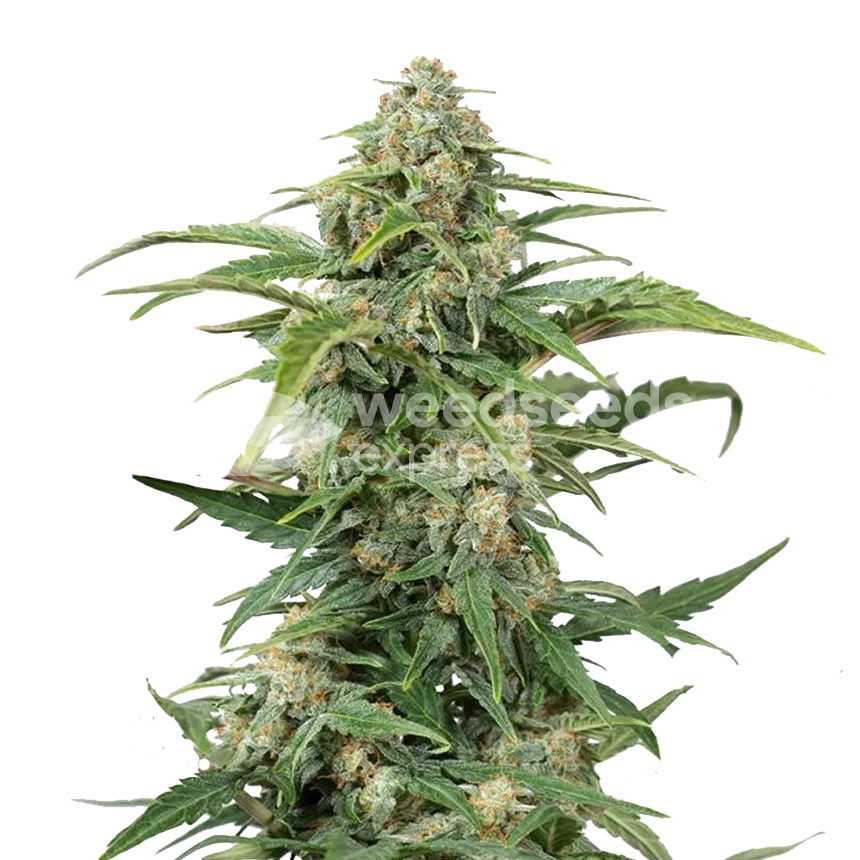 CBD Kush Strain Info
Genetics
Kandy Kush X CBD dominant variety
Yield indoor
500-600 grams per m2
Yield outdoor
600-700 grams per plant
Height outdoor
120-180 cm
Flowering time
56-63 days
Cultivation
Indoor, Outdoor, Greenhouse
Climate
Temperate, Mediterranean, Arid
Flavors
Earthy, Spicy, Sweet, Woody, Kush, Pine
Effects
Euphoric, Happy, Relaxed, Uplifting
Terpenes
Fenchol, Borneol, Camphene, Ocimene, Alpha Pinene, Beta Caryophyllene, Eugenol, Cadinene, Citral, Alpha Cedrene, Humulene
CBD Kush feminized seeds
This CBD-rich cannabis strain, beloved among medicinal users, is one of a kind and brings out the best of the Kush. She leans more to the Sativa side, making it a great experience to grow and consume this beautiful plant. In addition, she also produces excellent yields of the highest quality.
Are you wondering what else CBD Kush has to offer? Then read on!
Why you should buy CBD Kush seeds:
Suitable for novice growers
Excellent for medicinal purposes
Extensive harvest potential
Growing CBD Kush seeds (indoors and outdoors)
Growing CBD Kush feminized seeds is easy and suitable for all cannabis growers, from beginner to expert. Growing with CBD Kush marijuana seeds is easy; the plant possesses high mold resistance and can be grown indoors and outdoors. As a result, its yield is considerable and usually obtained without much effort.
It is a plant that loves to be grown indoors. When grown indoors, the plant often remains relatively small (between 0.80 cm and 120 cm). Outdoors in open soil or large pots, she can grow quite large (up to 180 cm). She also does well in a greenhouse. Provide a warm, temperate, or Mediterranean climate, and your plants will reward you!
The CBD Kush seeds grow into plants of a manageable height, with many side branches, short internodal distance, and a vast amount of buds with a compact and dense structure. It is a nicely balanced plant with a bushy shape, ideal for SOG or Scrog application.
Feminized seeds only contain the genetics to grow into female plants, so you won't have to worry about any male specimens in your crop.
Flowering time
The flowering time of CBD Kush is average and takes approximately 56 to 63 days.
Plant height
CBD Kush seeds grow into medium-height plants. Indoors the average heights are between 80 cm to 120 cm. Outdoors, with sufficient space available, they can reach heights up to 180 cm.
CBD Kush yield
CBD Kush is a plant that can produce heavy yields. When grown indoors, you can expect a maximum yield of 500 a 600 grams per m². Outdoors, where the plants often grow larger, can reach up to 700 grams per plant. The best month for harvesting when growing outdoors is between mid and late October.
Effects of CBD Kush 
The effect of CBD Kush offers a relaxing high that will give you a euphoric feeling. Physically, you will experience an oasis of calm—ideal for a moment of relaxation with friends or alone to enjoy a good movie.
CBD Kush is frequently used for medicinal purposes, in particular, to relieve stress and anxiety. However, the weed can also be helpful for those who have insomnia or chronic pain. CBD Kush is a versatile weed with a solid relaxing body stone complemented by a controllable mental effect.
Side Effects
CBD kush has very few side effects. And while uncommon, you could experience a mild headache, drowsiness, dizziness, and dry mouth and eyes in rare cases.
Smell and taste
The aroma of CBD Kush is complex and pleasant, very much what you would expect from a member of the OG Kush family. The taste is enjoyable, rich in earthy and woody nuances with hints of pine and sweet candy. On the flavor side, she offers an aroma of earth and wood with spicy and aromatic notes.
From the first puff, a light cloud of delicate smoke lingers gently in the throat without making you cough profusely.
Origin
Kush strains' name derives from the Hindu Kush, a mountain range that stretches across India, Pakistan, and Afghanistan. CBD Kush, in particular, is a hybrid mix of Indica 50% and Sativa 50% between the original Kush and the OG Kush, which has resulted in a unique plant with a THC and CBD content of both 8%. This makes the ratio of THC / CBD 1:1.
CBD Kush seeds for sale at Weedseedsexpress
CBD Kush seeds grow into well-balanced hybrids with insane medicinal qualities specially developed for alleviating various disorders.
The psychoactive effects are subtle, so the user is never overwhelmed, making her very popular among recreational consumers looking for a milder strain that gives a pleasant but manageable high.
Are you convinced? Then buy the best CBD Kush feminized seeds directly in our online store!
Payment & Delivery
You might also like these seeds
CBD Kush feminized seeds alternatives