CBD Kush
autoflower seeds
Perfectly balanced is what first comes to mind when you think of our CBD Kush auto cannabis seeds. 
Jump to description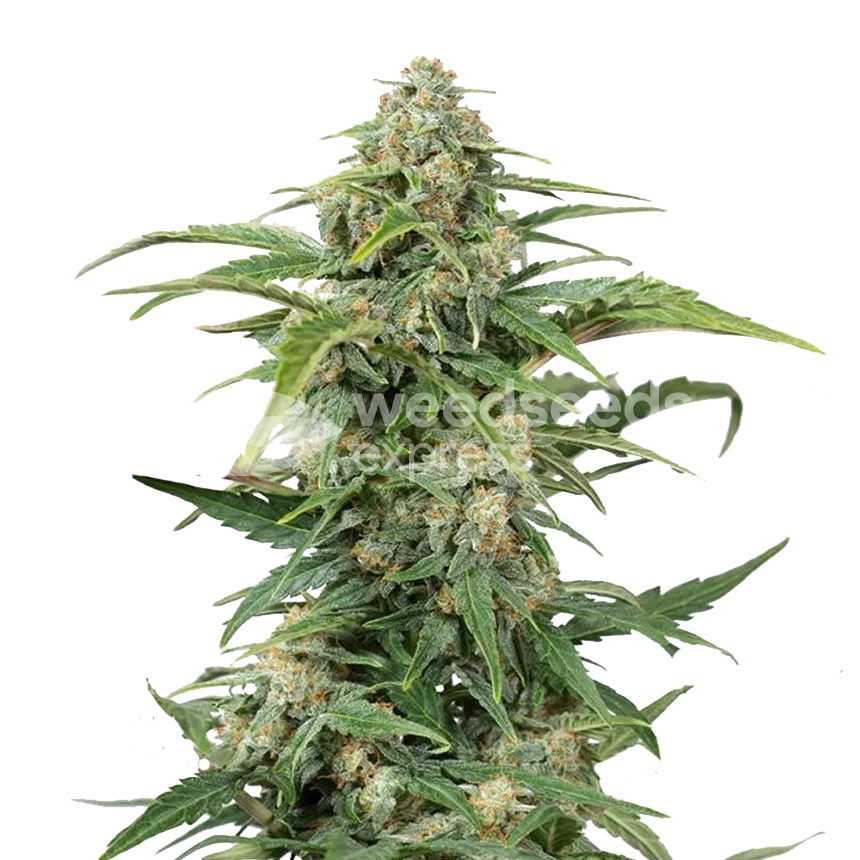 CBD Kush autoflower Strain Info
Genetics
Kandy Kush X CBD dominant variety
Yield indoor
300-400 grams per m2
Yield outdoor
80-100 grams per plant
Flowering time
56-63 days
Cultivation
Indoor, Outdoor, Greenhouse
Climate
Temperate, Mediterranean, Arid, Tropical
Effects
Creative, Energetic, Relaxed
Terpenes
Fenchol, Borneol, Camphene, Ocimene, Alpha Pinene, Beta Caryophyllene, Eugenol, Cadinene, Citral, Alpha Cedrene, Humulene
CBD Kush autoflower seeds
Consisting of a crossbreed between Kandy Kush and a CBD dominant variety, this 50/50 Indica-Sativa hybrid offers an equal THC to CBD ratio of 8%.
This excellent merge is clearly noticeable in the effects, simultaneously subtly uplifting and profoundly relaxing. These versatile attributes make her an all-round medicinal and recreational strain for all Kush lovers. Especially if you are not into overwhelming psychoactive effects, but still enjoy all the goodness of a delicious Kush strain.
Can't wait to find out more about everything CBD Kush autoflower cannabis seeds have to offer? Keep reading to find out more. If you are a grower with more experience and are looking for an even bigger harvest, you should also check out our CBD Kush feminized seeds.
Why you should buy feminized CBD Kush autoflower seeds:
Easy to grow and suitable for beginners

Equal CBD and THC levels

Perfect for users with low THC tolerance
Growing CBD Kush Autoflower (indoor and outdoor)
Our autoflowering CBD Kush strain is an easy-to-grow plant that can be grown indoors and outdoors.
Her compact structure especially benefits those growing in an indoor garden with limited space. As long as you ensure adequate ventilation, this relatively short yet potent auto flowering strain will reward you with prosperous growth, resulting in more than decent yields.
During growth, this feminized CBD Kush auto displays a predominantly indica-like structure with thick foliage, similar to OG Kush.
The auto CBD Kush responds well to Sog and Scrog training methods, which are encouraged to boost its already impressive yields.
Since all our autoflowering weed seeds are feminized by default, worrying about unwanted males in your crop is now a thing of the past.
Flowering time
Our Auto Kush CBD strain features an average flowering phase of 56 to 63 days.
Since the CBD levels peaks at the end of the growth cycle, it is recommended to let her flower for the full 63 days. This way she will be able to reach her full potential.
Fun fact: The addition of Ruderalis genetics allows the outdoor grower to realize multiple harvests per season!
Plant height
As a typical autoflower, CBD Kush weed seeds grow into a plant that reaches a short to moderate height.
Grown indoors, this cannabis strain reaches an average height between 80 and 100 cm.
Outdoors, she will typically remain just below one meter tall.
CBD Kush Autoflower yield
The autoflower CBD Kush offers excellent yield potential.
Under optimal conditions, expect to harvest indoors between 300 and 400 grams per m².
Grown outdoors, you can obtain about 350 to 450 grams of CBD-rich buds per plant. These indications are based on ideal growing conditions.
Effects of CBD Kush
The perfectly balanced effects give the user a profoundly calming sensation and a slightly uplifting buzz of subtle euphoria.
As the mild sedation sets in, you will feel muscle spasms, and muscle fatigue subside.
Medicinally, these mild soothing effects can also benefit those with mental health issues.
But even recreationally, it is a perfect option for daytime users with low THC tolerance that enjoy the Kush characteristics and mellow high, but aren't too fond of overwhelming psychoactive effects like mental cloudiness.
Side effects
The odds of adverse reactions are slim to none from strains with high CBD, and low THC levels. Aside from dry eyes and mouth, CBD Kush Autoflower is also not associated with unpleasant side effects.
Smell and taste
Auto CBD Kush offers a delightfully pungent aroma of earthy diesel mixed with citrus fruits.
 The smoke is smooth, laced with all the characteristic Kush flavors, and a delicious aftertaste of ripened fruit.
Origin
This strain was created by crossing Kandy Kush X CBD dominant variety and potent ruderalis genes.
The best CBD Kush Autoflowering seeds for sale at Weedseedsexpress
At our marijuana seed bank, we deliver high-quality seeds of world-renowned strains to most countries worldwide. We offer a germination guarantee, guaranteed delivery, the most competitive prices, and a wide variety of secure payment methods.
The global demand for CBD strains has experienced unprecedented growth in recent years. Although breeders initially focused mainly on photoperiod strains, several CBD-rich auto-flowering marijuana seeds are now available, like the fantastic CBD Kush auto.
This top-quality autoflower with an equal THC to CBD ratio offers high yields, potent medicinal effects and surprises the taste buds with delectable flavors that are hard to forget.
Are you looking for a high CBD variety that allows you to realize multiple crops per season? Then buy the best CBD Kush Auto seeds today at Weedseedsexpress.
Payment & Delivery
You might also like these seeds
CBD Kush autoflower seeds alternatives