Bruce Banner
feminized seeds
Ready for extremely vigorous cultivation? Then take a look at the possibilities and advantages of buying feminized Bruce Banner seeds!
Jump to description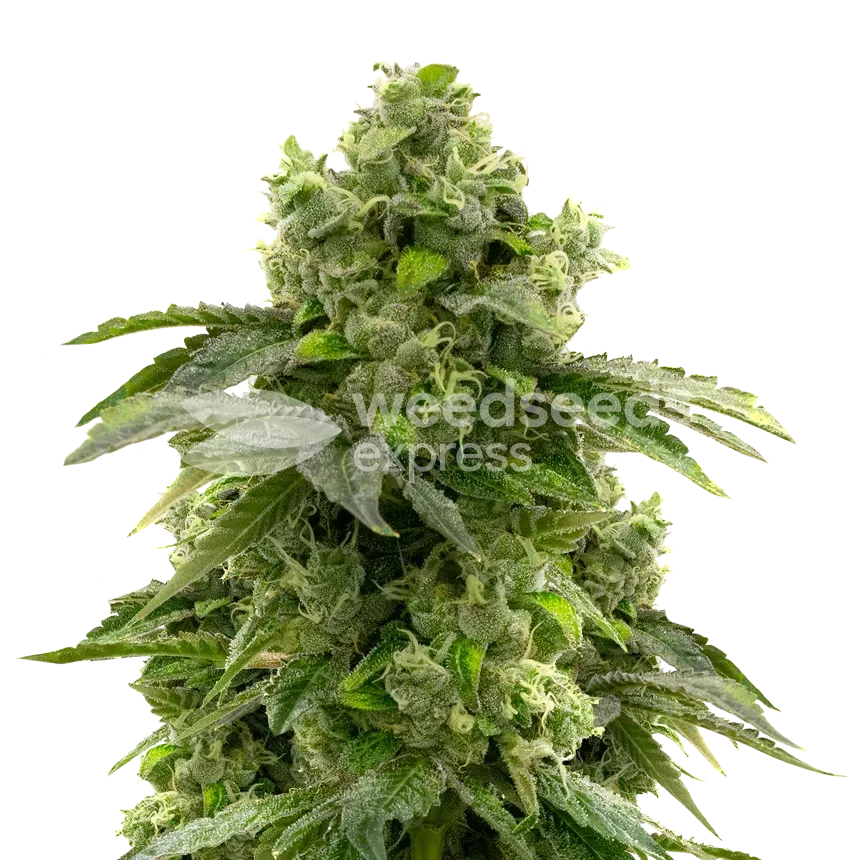 Bruce Banner Strain Info
Genetics
Strawberry Diesel x OG Kush
Yield indoor
500-600 grams per m2
Yield outdoor
400-500 grams per plant
Height outdoor
140-210 cm
Flowering time
60-65 days
Cultivation
Indoor, Outdoor, Greenhouse
Climate
Polar, Temperate, Mediterranean
Flavors
Berry, Diesel, Sweet, Earthy, Pungent
Effects
Creative, Focused, Relaxed, Uplifting, Powerful
Terpenes
Nerolidol, Fenchol, Phytol, Borneol, Camphene, Ocimene, Terpinolene, Alpha Pinene, Beta Caryophyllene, Linalool, Limonene, Eugenol, Cadinene, Citral, Alpha Cedrene, Humulene
Bruce Banner feminized seeds
This powerful plant owes its name to the alter ego of the comic book hero "The incredible Hulk," known for its green coloring during outbursts of anger, given the extremely high THC potency and power of this plant. This name is more than deserved and exploded on social media. With her 27% THC, Bruce Banner feminized seeds are one of the top 5 strongest strains for sale and are extremely popular in Amsterdam, the UK, Canada, and the USA. 
Would you like to expand your experience in the field of high THC strains? Then read on!
Note: Is this your very first grow, and you're afraid it won't be a success? No worries! Buy Bruce Banner autoflowering seeds and assure yourself of an excellent yield without much effort! 
Why you should buy Bruce Banner #3 feminized seeds:
A very versatile balanced hybrid
Highly productive outdoors
Kush flavor with spicy and citrus nuances
Powerful anti-stress effect
Growing Bruce Banner seeds (indoor and outdoor)
Bruce Banner #3 can be grown from both cuttings and seeds, but for healthy growth, Bruce Banner prefers to be grown from seed. It is a plant classified as difficult to grow and thrives both indoors and outdoors. It prefers mild to warm temperatures with plenty of sunshine.
Bruce Banner strain seeds grow into versatile plants that lend themselves perfectly to different growing techniques. As a balanced hybrid, Bruce Banner grows vigorously, and its structure is perfect for a SCROG grow. However, she can also deliver excellent results in a SOG set up with a short growing season.
This plant can grow significantly at the beginning of the flowering phase. Therefore, start the flowering stage early. Top her before the start of flowering, or train your weed plant so that she gets bushy instead of long-legged. After all, you don't want her to grow too close to your lights.
One last tip - use organic fertilizers to accentuate Bruce Banner's sweet berry and diesel taste.
Flowering time
The leaves of this plant are shiny and can take on an attractive purple tint during flowering. The plant develops vigorous buds with a dense structure that takes 8 to 10 weeks to develop into a harvest-ripe plant. Do you use the Bruce banner strain seeds for outdoor growing? Then the harvest can be expected in early October.
Plant height
Bruce Banner gets about as high as OG Kush and Sour Diesel. Grown indoors in a grow tent, Bruce Banner can reach a height of 100 - 150 cm. Outdoors, she can reach a height of 140 - 210 cm.
Bruce Banner strain yield
When grown indoors, Bruce Banner produces a maximum of 600 grams per m², while you can achieve a maximum harvest of about 500 grams per plant outdoors.
Effects of Bruce Banner
Bruce Banner is an exceptionally powerful strain and can overthrow the most seasoned users. The THC content of this popular weed is around 27% THC, well above the Sativa average. 
The high is powerful and hits the consumer fast and hard. Which of course shouldn't be a surprise with THC levels like this. The Sativa effects are uplifting and immediately noticeable. Shortly after these initial sensations are complimented with a delightful feeling of creativity and focus. 
The Indica properties in Bruce Banner relax the body and has excellent pain-relieving effects that promise quick relief, especially in chronic pain patients. She can also be very effective in treating symptoms of stress, anxiety, and depression. When properly dosed, it can also help some ADHD or ADD patients to find more focus and concentration.
Side effects
Make sure you have snacks nearby because some users report an increased appetite. A dry mouth and dry eyes are more common side effects.
Smell and taste of Bruce Banner
One of the characteristics of Bruce Banner that gets the most attention is the intensity of the aroma, with characteristic pungent diesel, and sweet berry notes, making the use of carbon filters or other odor-neutralizing systems essential in indoor growing.
The flavor is more earthy than the smell, blending citrus and spicy nuances in a combination as complex as it is delicious. Bruce Banner cannabis has a berry flavor, with notes of diesel, spices, and citrus.
Origin
The Bruce Banner strain seeds were originally developed by the passionate breeder Jason Holck from Dark Horse Genetics, also known as "OG Ironlung".
This powerful hybrid is the result of a cross between two well-known and powerful strains, namely OG Kush and Strawberry Diesel. Because of this cross, Bruce has a genetic composition of 50% Indica genes and 50% Sativa genes and the weed has a pleasant, slightly sweet smell of Diesel.
Holck has released 5 phenotypes of Bruce. Of these five phenotypes presented by Holck, Bruce Banner # 3, in particular, has made its mark today. This strain won first place in the Denver Cannabis Cup and is also the most potent strain ever tested in the High Times Cannabis Cup.
Bruce Banner seeds #3 for sale at Weedseedsexpress
Growing Bruce Banner seeds will almost always result in a huge harvest of extremely potent weed. See for yourself what this mighty green monster has to offer and buy the best Bruce Banner feminized marijuana seeds today at Weedseedsexpress!
Payment & Delivery
You might also like these seeds
Bruce Banner feminized seeds alternatives