Blueberry CBD
feminized seeds
Are you after high CBD strains and a fan of fruity flavors? Then check out our feminized Blueberry CBD seeds.
Jump to description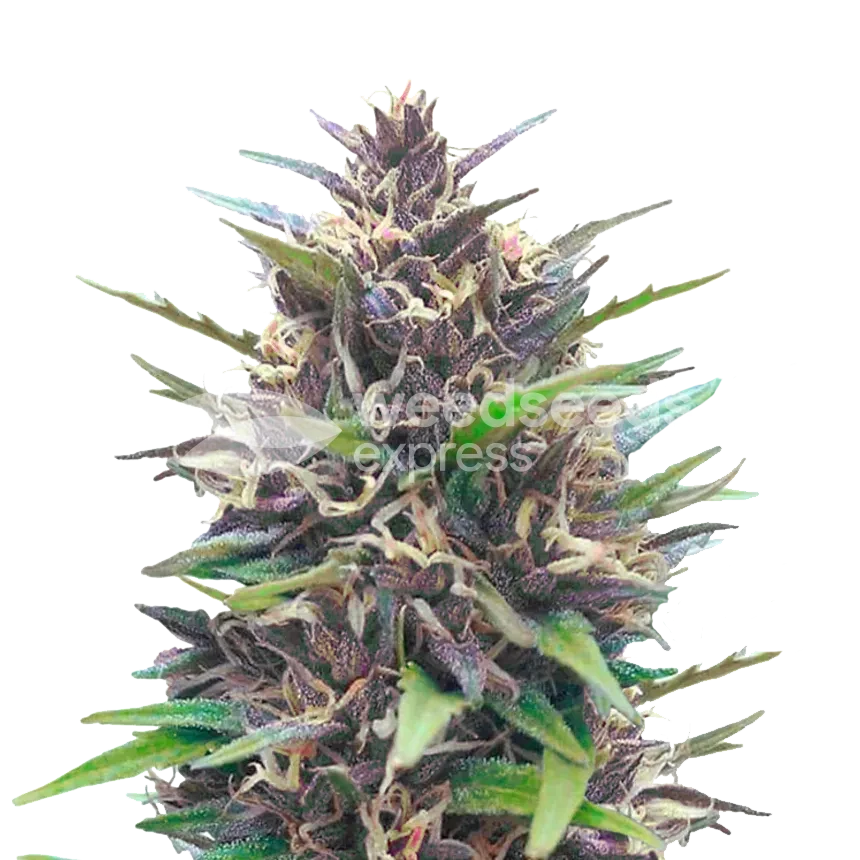 Blueberry CBD Strain Info
Genetics
Blueberry F2 x OG Kush CBD x Afghan CBD
Yield indoor
300-450 grams per m2
Yield outdoor
350-450 grams per plant
Height outdoor
120-160 cm
Flowering time
60-65 days
Cultivation
Indoor, Outdoor, Greenhouse
Climate
Polar, Temperate, Mediterranean, Arid, Mountains
Flavors
Sweet, Lemon, Pine, Woody, Blueberry
Effects
Calming, Relaxed, Focused, Uplifting
Terpenes
Phytol, Borneol, Eucalyptol, Valencene, Alpha Humulene, Beta Pinene, Alpha Pinene, Beta Caryophyllene, Limonene
Blueberry CBD feminized seeds
Widely recognized for their healing and anti-oxidant benefits, blueberry strains are a favorite in medical marijuana. CBD blueberry seeds combine traditional Indica with a high CBD strain, enhancing these therapeutic properties.
Feeling intrigued by this unique variety? Read more about growing Blueberry CBD seeds!
Why you should buy Blueberry CBD seeds:
Easy to grow
Excellent non-psychoactive weed ideal for medicinal use
Fruity blueberry flavor and aroma
Good yields
Growing Blueberry CBD seeds (indoors and outdoors)
Blueberry CBD cannabis seeds are easy to grow and suitable for indoor-, outdoor and greenhouse cannabis cultivation. On top of that, she does well outside in various climates from temperate to Mediterranean. Just take care and avoid late frosts.
Growing cannabis from these beautiful feminized Blueberry BBD strain seeds provides you with a strain that contains a high CBD content and is widely used as medicinal cannabis.
Flowering time
The flowering phase of our Blueberry CBD is approximately 60 to 65 days. We recommend keeping the relative humidity at 40% - 50% during this period. You can lower the humidity to 30 to 40% in the last two weeks.
Beautiful purple-bluish buds develop with a lovely sweet blueberry scent during the flowering phase. While it will not impact the end CBD content, you may choose to enhance the purple/ blue hues by deliberately reducing the temperatures in your grow room.
Plant height
Blueberry CBD is a compact strain that develops sturdy, lateral branches capable of supporting many buds. Her maximum height indoors is 140 cm and 160 cm when grown outside.
Blueberry CBD yield
Blueberry CBD seeds are a good choice if you like to grow in a Scrog or SOG setup and are keen to optimize your harvest. In a controlled indoor setting, you can harvest a maximum of 450 grams per m2.
With our Blueberry CBD seeds, you can easily grow outdoors. She even thrives in colder climates, although the harvest will be less.
Outdoor growers who cultivate weed in a sunny environment can achieve up to 450 grams per plant. Harvesting takes place in early and mid-October in the Northern Hemisphere.
Effects of Blueberry CBD
This cannabis plant is especially popular with medical users and is used regularly as medicinal cannabis.
Blueberry CBD is a type of cannabis with a much higher CBD content than THC content (16:1). As a result, the feeling of use is much less powerful, and the medicinal effect is much better.
As medicinal cannabis, this strain has proven to be beneficial in relieving stress and relieving feelings of depression. The effect is mild, partly due to the THC: CBD ratio. Implying that you will not get very stoned, but you will mainly experience the medicinal effect of CBD.
Stress and depressive feelings will diminish quickly. Regular usage can even subdue these feelings. Expect to feel calm, happy, relaxed, and focused.
Side effects
It's doubtful that you will experience any unwanted side effects from Blueberry CBD. Smoking any cannabis, however, can lead to dry eyes and mouth, so make sure you have plenty of fluids on hand to stay hydrated.
Smell and taste
When smoking this CBD-rich cannabis strain, the taste is described as sweet, woody with of course plenty of blueberries, and a hint of pine. The effect after smoking is soft and mild due to the low THC content of this cannabis.
Origin
Blueberry CBD was created by crossing Blueberry F2 x OG Kush CBD x Afghan CBD. With CBD levels as high as 16% and under 1% THC, this is the ideal strain for making your personal CBD oil or extract.
The best Blueberry CBD seeds for sale at Weedseedsexpress
If you choose to grow Blueberry CBD seeds, you will be pleasantly surprised by the results. This Indica dominant CBD strain has a great appearance and is easy to grow, even in cooler climates.
Due to its high mold resistance and compact size, this strain is also suitable for novice growers and indoor growing.
Blueberry CBD is a great all-rounder that is becoming increasingly popular for medicinal use or simply as a way of relaxing and relieving stress, so buy Blueberry CBD seeds at Weedseedsexpress today!
Payment & Delivery
You might also like these seeds
Blueberry CBD feminized seeds alternatives