Blackberry Moonrocks
autoflower seeds
Embarking on a cosmic adventure doesn't require a journey through the stars. Simply cultivate Blackberry Moonrocks autoflower seeds, and you'll soar to celestial heights from the comfort of your own home.
Jump to description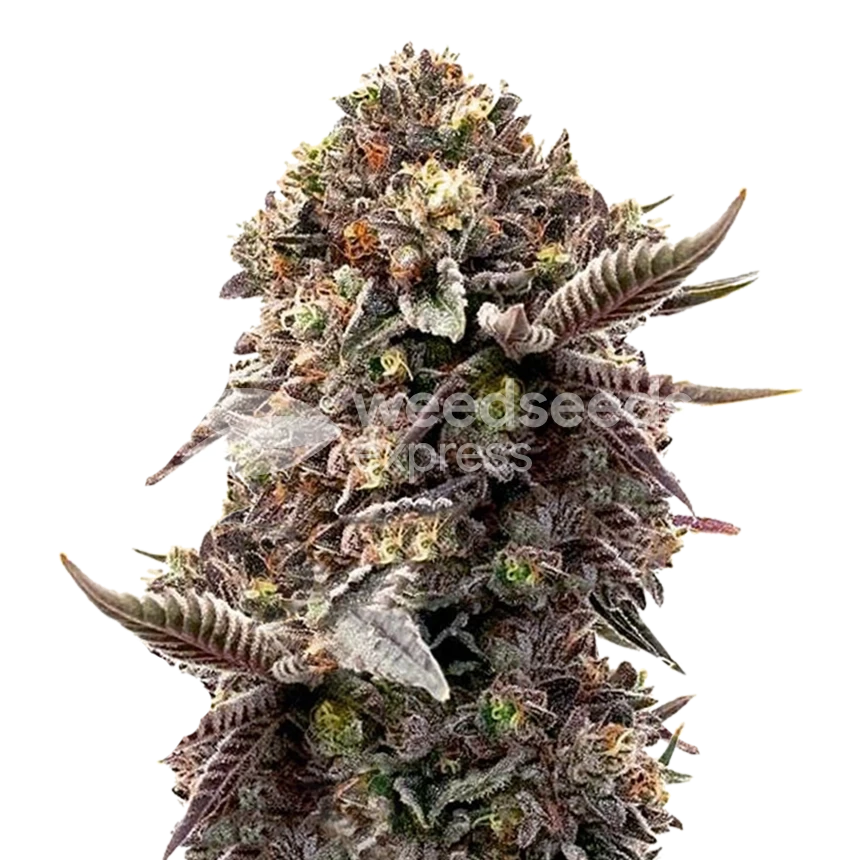 Blackberry Moonrocks autoflower Strain Info
Genetics
Blackberry Moonrocks x Ruderalis
Yield indoor
450-550 grams per m2
Yield outdoor
120-200 grams per plant
Flowering time
56-70 days
Cultivation
Indoor, Outdoor, Greenhouse
Climate
Mediterranean, Arid, Temperate
Effects
Focused, Happy, Relaxed
Terpenes
Linalool, Nerolidol
Blackberry Moonrocks autoflower seeds
Fusing Blue Moonrock with Blackberry Kush, Blackberry Moonrocks emerges as a potent indica-dominant hybrid, bursting with fruity flavors and an intoxicating powerful high – a word of caution to cannabis novices!
However, budding cultivators need not shy away from this extraordinary strain. Even without years of experience, you can still cultivate the stunning buds, which, as some growers attest, may exhibit a captivating bluish-purple sheen.
Eager to introduce these lunar gems to your cannabis garden? Read on to uncover why autoflowering Blackberry Moonrocks seeds are a must-have addition to your cultivation endeavors! If you are a grower with a bit more patience in exchange for a bigger yield, you have to check out our Blackberry Moonrocks feminized seeds as well.
Why you should buy Blackberry Moonrocks autoflower cannabis seeds
Brilliant berry flavors

A high that will leave with a good feeling

Easy and super quick to grow
Growing Blackberry Moonrocks autoflower feminized seeds (indoor/outdoor)
Seeds from the Blackberry Moonrocks autoflowering cannabis strain may be cultivated in a variety of different environments. She can thrive in both indoor and outdoor environments. Growing your auto Blackberry Moonrocks seeds in a greenhouse is also a very viable option.
Auto Blackberry Moonrocks seeds thrive in well-draining soil with a neutral pH level. Ensure that your plants receive adequate nutrients, particularly during the vegetative stage, to support their rapid growth.
As we mentioned earlier, our Blackberry Moonrocks autoflowering seeds can be grown outdoors, but indoor cultivation offers more control over lighting and temperature. To maximize your yield, consider pruning techniques such as low-stress training (LST) or defoliation. These methods can help shape the plant and promote the development of multiple colas, ultimately increasing the overall yield.
Maintain a consistent temperature of 21-26 °C (70-79 °F) and a relative humidity of 40-50% to ensure healthy growth of the auto Blackberry Moonrocks marijuana seeds. Monitor and adjust these conditions as needed, especially during the flowering phase, to avoid mold or mildew. Buds grown in a cooler night temperatures acquire a dark tone, which experienced growers can try in their grow room.
Flowering time
Blackberry Moonrocks auto typically needs eight to ten weeks to reach the flowering stage. The entire seed-to-harvest process can take you less than three months. This is because the vegetative phase can already be finished in less than a month, and flowering can start in the third week.
This extremely short waiting time does not only allow for a very speedy output, but also for two harvests of Blackberry Moonrocks in a single (outdoor) growing season.
Plant height
Blackberry Moonrocks autoflower plants stay pretty compact, and do not need a lot of space in your grow room or cannabis garden.
Grow this indica dominant strain indoors, and you can expect a canopy to reach somewhere between 60 and 100 cm. Outdoors, your auto Blackberry Moonrocks plants will have a max length of 120 cm.
Auto Blackberry Moonrocks yield
Blackberry Moonrocks autoflower is a strain that produces fat resinous flowers which will put a good number on not only the scales but also a smile on your face.
Indoors, auto Blackberry Moonrocks has a harvest potential of 550 grams per square meter. Outdoors, your yield will be able to reach up to 200 grams per plant, in optimal growing conditions.
Effects of Blackberry Moonrocks autoflower weed
Although you don't need to be an expert grower to grow Blackberry Moonrocks, the very intense effects caused by her gigantic THC content can be a bit much for novice smokers. Veterans of the cannabis scene are in for a real treat, even if THC is not the sole element in a good high.
After you start consuming her weed, you will start to feel her mood enhancing sativa effects, creating a canvas for uplifting and blissful thoughts. As the initial buzz mellows, the true prowess of this indica dominant hybrid unfurls, gently cascading through your body, unraveling layers of stress and tension accumulated during the day.
Weed grown from our Blackberry Moonrocks autoflower seeds is best reserved for evening indulgence. Her potent effects have a knack for anchoring you to the comfort of your couch. To fully embrace the experience, consider arming yourself with a cozy pillow and blanket. This remarkable strain has the power to lull you into a restorative slumber, cradling you in the embrace of dreamland.
As reported by medical marijuana users, Auto Blackberry Moonrocks offers a valuable medicinal cannabis strain, with the potential to help treat pain, anxiety, and sleep disorders.
Side effects
Blackberry Moonrocks holds a regal status amongst high THC seeds strains, commanding respect and admiration for her potency. However, novice cannabis users or those sensitive to THC should exercise caution, as her very intense effects may prove overwhelming.
Frequent side effects include an insatiable craving for snacks – an opportune moment to indulge in your favorite treats, or exercise restraint if you're monitoring your caloric intake. Additionally, dry eyes and mouth are common occurrences, which can be mitigated by staying well-hydrated throughout the experience.
Smell and taste of Blackberry Moonrocks marijuana
Her delicious soft smoke has a lingering, yet incredibly fruity aroma with a clear overtone of berries. You can not only smell this amazing aroma, but you will also be able to find this same sweet berry flavor when you consume her weed.
Besides smoking or vaping, Blackberry Moonrocks' large resin production makes her more than suitable for high quality extracts. And being honest, just the sound of a berry flavored rosin puts us in a happy mood.
Origin of autoflowering Blackberry Moonrocks seeds
Contrary to what her celestial name might suggest, Blackberry Moonrocks didn't originate from a fruit-filled cosmic realm. Instead, auto Blackberry Moonrocks combines the genetics of Blue Moonrock x Blackberry Kush and sprinkles in a little ruderalis. These rare genes produce unparalleled potency with delightful berry notes, and a quick harvesting time to boot.
The fascinating lineage of her parent plants further contributes to Blackberry Moonrocks' distinctive charm. The remarkably potent female Blue Moonrock emerged from a union between the renowned Blue Dream and White Widow strains – both revered for their legendary status in the cannabis world.
As for the male Blackberry Kush, its genetic makeup comprises a harmonious blend of Afghani and Blackberry. This pairing infuses the exquisite strain with the quintessential indica essence, effortless growth, and alluring blueberry undertones, culminating in an extraordinary cannabis experience for aficionados and newcomers alike.
The best Blackberry Moonrocks autoflower seeds for sale at WeedSeedsExpress
WeedSeedsExpress offers your favorite cannabis seeds, from challenging feminized weed seeds to easy-to-grow autoflower cannabis seeds. Our catalog is ever-expanding, so you should always be able to find a new strain to grow. We value your customer experience, which is why we offer stellar support and a seed germination guarantee on all orders.
Cultivating autoflowering Blackberry Moonrocks is not only remarkably straightforward; her enchanting buds offer a trifecta of beauty, flavor, and unparalleled potency. Brace yourself for an invigorating high and indulge in the ultimate relaxation experience.
Grow a lunar rock or two, and buy Blackberry Moonrocks autoflower seeds today!
Payment & Delivery
You might also like these seeds
Blackberry Moonrocks autoflower seeds alternatives