Big Bud
autoflower seeds
We like Big Buds and we cannot lie. So grow her seeds, enjoy her yield, and soar through the sky so high!
Jump to description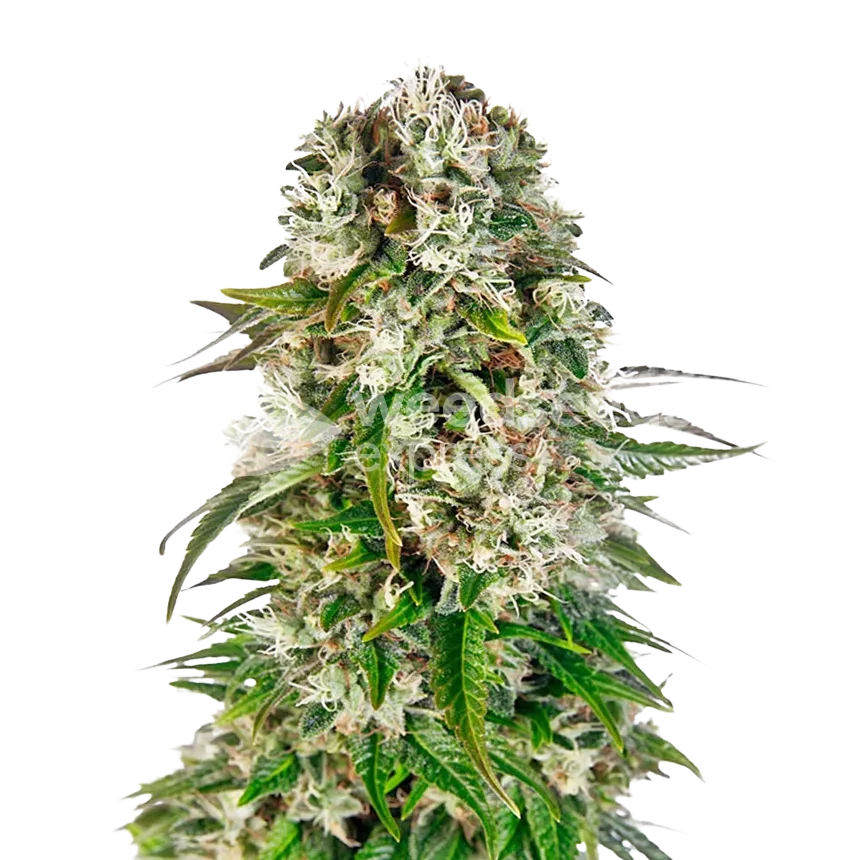 Big Bud autoflower Strain Info
Genetics
Big Bud x Ruderalis
Yield indoor
300-500 grams per m2
Yield outdoor
50-120 grams per plant
Height outdoor
130-150 cm
Flowering time
45-50 days
Cultivation
Indoor, Outdoor, Greenhouse
Flavors
Fruity, Skunk, Sweet
Effects
Relaxed, Uplifting
Terpenes
Phytol, Borneol, Eucalyptol, Valencene, Alpha Humulene, Beta Pinene, Alpha Pinene, Beta Caryophyllene, Limonene
Big Bud autoflower seeds
Are you looking to produce large, trichome-loaded buds in a fraction of the time it takes to grow photosensitive cannabis strains? Big Bud automatic feminized is an Indica dominant hybrid, easy to grow strain of which you can expect large-sized dense XXXL buds.
The Afghan and Skunk ancestry characterize this strain's fine genetic mix, ensuring multiple flowering sites with many resinous Indica buds. Because the plant's vegetation period is so much shorter than the regular variety, you will be able to enjoy the pleasantly fruity aroma and flavors in no time!
While the massive, dense dark green buds may steal the show, its powerful psychoactive and therapeutic effects have certainly added to the high demand for this resistant hybrid.
Curious to find out more about our feminized Big Bud auto? We can't wait to tell you!
Why you should buy Big Bud auto seeds
Descendant from an original Big Bud clone

Vigorous Afghan Skunk hybrid

Massive buds that ensure a bountiful harvest
Growing Big Bud autoflowering seeds (indoor/outdoor)
You can grow Big Bud seed strain indoors, outdoors, or in a greenhouse. Because Big Bud auto is such a resilient strain, she even thrives in cooler environments like a mountain or polar climate.
The plant's appearance is characterized by its huge buds from which Big Bud automatic derives its name. A few fingers of leaves grow on the upper part of the tall main stem and long side branches, along with several flowering sites.
Once the plants begin flowering, long dark brown hairs and sparkling flower clusters develop.
The solid stem can easily support the weight of the dense dark green buds, which is a must, especially during the later flowering phase.
Since Big Bud's trademark buds grow more densely than most strains, it is advised to tie the branches slightly so that airflow can adequately circulate to prevent mold and bugs.
She loves some good quality nutrients, which will only improve her already heavy flower clusters with super thick nugs.
Flowering time
After germination, she only requires a brief vegetative stage. After that, Big Bud automatic flowers for 45 to 50 days. Big Bud automatic's giant buds grow denser as the flowering period progresses.
Does it get any better than this? It sure does! Big Bud automatic's super accelerated growth cycle provides you plenty of time to achieve at least two full harvests during your local growing season. Meaning you reap twice the amount of this strain's buds!
Plant height
Indoors, the plants typically range in height from 90 to 130 cm. However, their modest size does not stop them from yielding a great harvest of mature, resinous Indica buds.
Growing Big Bud auto outdoors, average heights of 130 to 150 cm are expected.
Big Bud auto yield
This heavy indica strain produces most of its yield on the main stem and upper branches.
Indoor, expect an average yield of 300–500 grams per m² from this strain's incredibly dense buds.
Outdoors a single female plant can harvest up to 120 grams, which is excellent since these autoflowering seeds are feminized, so all your plants are guaranteed to be female.
Effects of Big Bud auto
Big Bud auto has a THC content of 22%, evident from the potent effects.
Like the feminized version, this variety offers a familiar high that'll impress even the most seasoned stoner. Users experience a mild yet present head high combined with a relaxing body buzz, which should be expected of prime quality buds.
The moderate body buzz that relaxes yet leaves you feeling clear enough to continue your daily routine makes it an excellent medicinal strain.
Being a strong Indica dominant strain, Big Bud also relieves muscle pain and spasms and aid in battling various mental disorders such as depression, anxiety, and stress.
Side effects
Some report that Big Bud automatic caused minor headaches and slight dizziness when consumed in larger doses. When maintaining the recommended doses, there are no significant adverse effects. However, be aware that dry eyes and a dry mouth occur with almost every cannabis variety you smoke.
Smell and taste of Big Bud automatic
Big Bud auto features a floral terpene mix complemented by a Skunky and pleasantly fruity aroma with an earthy undertone.
The alluring pleasant sweet floral aroma also doesn't disappoint the taste buds: spicy, fruity primary flavors with earthy notes and a hint of Skunk.
Origin of Big Bud automatic seeds
Big Bud is allegedly a descendant from a vigorous Afghan Skunk hybrid from the US.
This strain crossed the Atlantic to the promised land of cannabis and coffee shops just before the Reagan administration declared war on drugs in the early 1980s. There the Big Bud clone was further cultivated into a stable cannabis seed strain.
Initially pollinating this clone with cannabis varieties with similar traits to enhance yield and potency, this resulted in two popular hybrids, Big Bud x Skunk #1 and Big Bud x Northern Lights #1.
But it wasn't until a clone of the original Afghan parent - a bulky hash plant cultivar - was obtained that it became possible to backcross and stabilize the variety.
Adding a potent Ruderalis into the mix ultimately resulted in the fast flowering, heavy yielding Big Bud automatic seeds we offer for sale today.
Buy the best Big Bud auto seeds at Weedseedsexpress
Why should you order from Weedseedsexpress? For starters, we sell cannabis seeds of the highest quality from the best parent plants. Sativa or Indica dominant strains as well as autoflowering varieties that are not affected by irregular light cycles. You name it, we've got it!
If you are looking for a pleasant fruity variety and massive yields, you must try this exceptional strain. When it comes to Indica dominant strains, Big Bud automatic is one of the best autoflowering varieties available today. So don't waste another minute. Order Big Bud autoflowering feminized cannabis seeds today and harvest premium buds with this definitive heavy strain.
Payment & Delivery
You might also like these seeds
Big Bud autoflower seeds alternatives