Banana Kush
autoflower seeds
Banana Kush autoflower is the fruity flavored Kush variety everyone goes bananas for!
Jump to description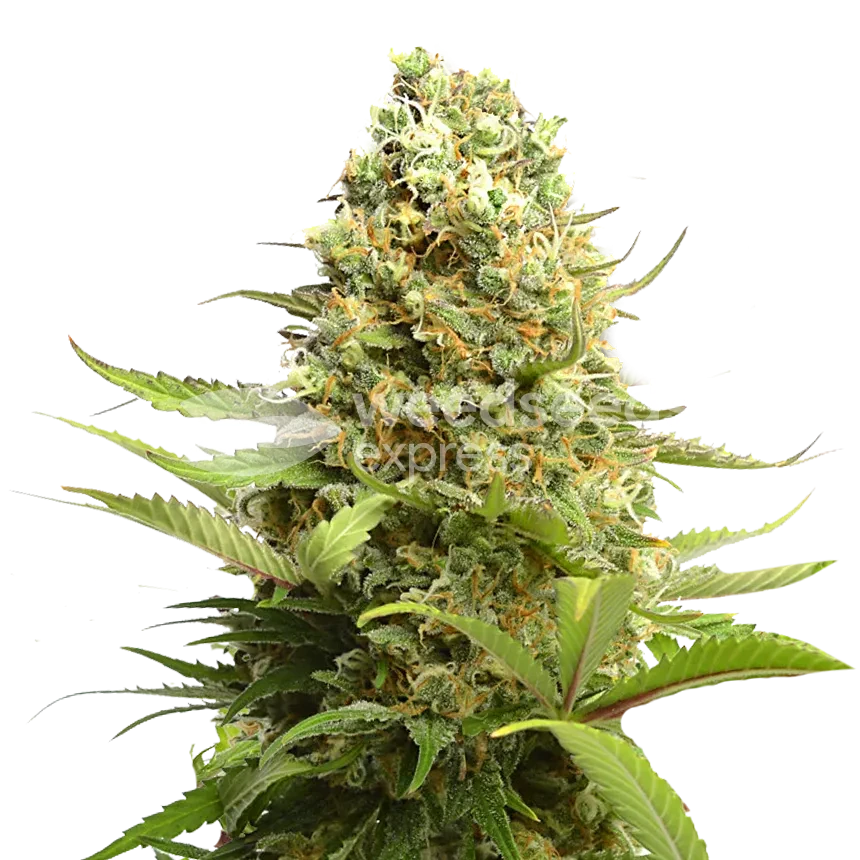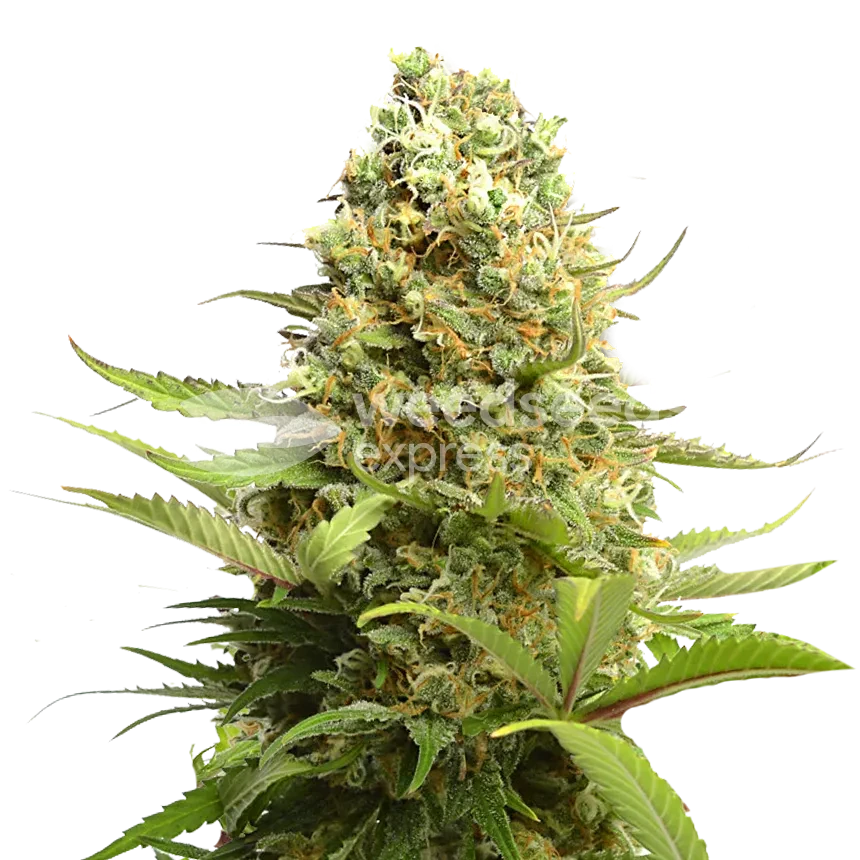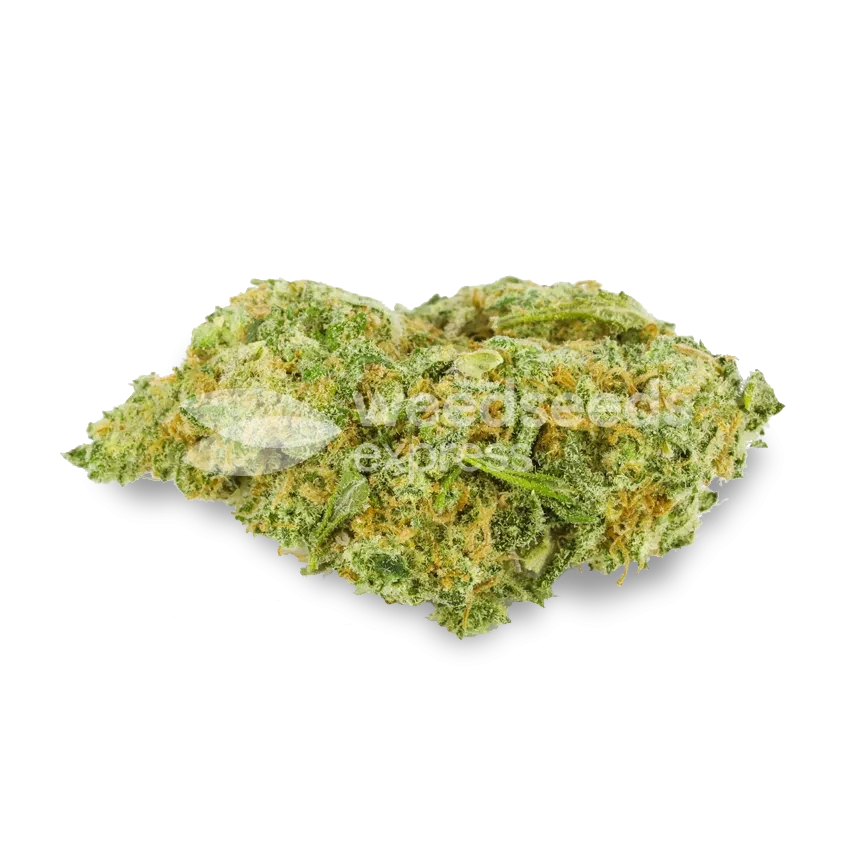 Add to Cart -
Shipping within 24 hrs
Rated 4.8/5 on Reviews.io
Our secure payment options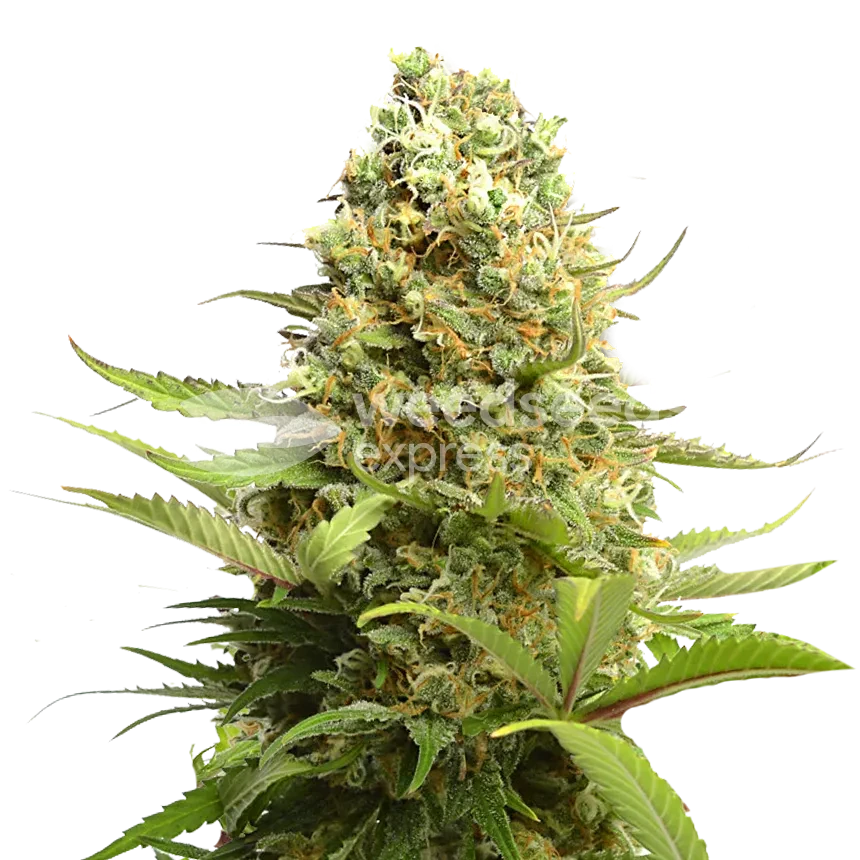 Banana Kush autoflower seeds
Specifications
Genetics
(OG Kush x Banana x White Widow) x Undisclosed Ruderalis
Yield indoor
450-550 grams per m2
Yield outdoor
120-200 grams per plant
Flowering time
49-56 days
Cultivation
Indoor, Outdoor, Greenhouse
Climate
Temperate, Mediterranean, Tropical
Flavors
Banana, Sweet, Treefruit, Tropical
Effects
Calming, Energetic, Relaxed
Terpenes
Nerolidol, Fenchol, Phytol, Borneol, Camphene, Ocimene, Terpinolene, Alpha Pinene, Beta Caryophyllene, Linalool, Limonene, Eugenol, Cadinene, Citral, Alpha Cedrene, Humulene, Myrcene
Description
These autoflowering seeds consist of OG Kush x Banana x White Widow x Ruderalis genes. This magnificent cocktail resulted in a strain that offers enormous potency, vigorous growth, and a wonderful, intense banana flavor.
Capable of surprisingly decent yields despite its speedy flowering time, this excellent variety is on its way to becoming a connoisseur premium weed.
Understandable, because let's be honest: is there anything better than enjoying the delicious aroma of sweet fresh bananas in the morning sun?
Continue to learn more about what this Indica dominant autoflowering strain has to offer, or order your Banana Kush auto seeds here.
Why you should buy Banana Kush auto fem seeds
Bountiful aromatic resin

Vigorous growth

Delicious flavor of sweet fresh bananas
Growing Banana Kush auto seeds (indoor/outdoor)
Not only does this strain offer enormous potency for an autoflowering strain, but growing Banana Kush auto is easy-peasy for most growers.
Germinate the marijuana seeds by combining the shot glass of water and damp paper towel method, and watch these beauties sprout.
Feminized auto Banana Kush cannabis seeds are capable of vigorous growth indoors, outdoors, in a sunny climate, and even in cooler climates.
A slightly Indica dominant strain with a bushy structure is suitable for inexperienced growers and experts alike. Rejoice in a nicely filled out grow space of potent resin-covered buds.
When you grow indoors, we advise you to use an activated carbon odor filter, as the buds get pretty fragrant during the flowering phase.
While these dense buds are beneficial for obtaining a significant yield, they also make her slightly more susceptible to bud rot. Therefore, maintaining appropriate humidity levels during the flowering period and maintaining its bushy structure with regular pruning is advised for better light distribution and air circulation to prevent mold, top rot, and other inconveniences.
Did you know that all our autoflowering strains, Banana Kush included, are feminized? Feminized seeds have been specially cultivated to eliminate male chromosomes, so they only produce female plants. So say goodbye to unwanted male plants ruining your crop.
Flowering time
Adding Ruderalis genes to a well-loved classic resulted in easier cultivation and ensured a very short flowering time. Auto Banana Kush plants flower for only 49 to 56 days.
This means that outdoors in the Northern Hemisphere, you will be able to complete two full harvests by the time the season is over!
Indoor, the possibilities are nearly endless, and you can grow them again and again as many times as you like.
Plant height
Banana Kush auto, like most autos, remains relatively small.
Indoors this fragrant plantain scented Kush grows between 80 to 110 cm and, as a result, lends itself perfectly for growing in smaller spaces.
Just a smidge taller outdoors, Banana Kush auto plants remain very manageable at 90 to 110 cm.
Banana Kush auto fem yield
Banana Kush auto feminized offers everything you'd expect from a famous Kush strain. It's resilient, potent, and produces very dense buds covered with aromatic resin.
Most importantly, Banana Kush autoflower seeds offer the potential for reasonably big yields, despite their short stature and brief flowering stage.
Grown indoors, Banana Kush auto provides an average yield of 450 to 550 grams per m².
Outdoors auto Banana Kush plants yield between 120 and 200 grams per plant.
Effects of Banana Kush auto
Do you dream of pure peace combined with a euphoric buzz? With Banana Kush auto, you are in for a treat! You will feel invigorated and energized within minutes of taking your first puff.
Experience a significant change in those tensed-up muscles as the cerebral buzz turns into a relaxed full-body stone.
The Indica dominance translates into a clear head buzz combined with a soothing body stone. Ideal for hosting a game night or just chilling with some friends.
This excellent Kush isn't just a great strain to boost your social skills; she also offers many benefits in the medicinal department.
Just a tiny dose can be helpful in the treatment of chronic pain, arthritis, (menstrual) cramps, and even migraines. In addition, its soothing effects positively affect anxiety and stress.
Side effects
Due to its higher CBD concentrations compared to most THC-heavy strains, it is rare to experience negative effects. In addition, CBD is known to counteract the adverse effects of THC.
Aside from a dry mouth and dry eyes, these buds are not likely to cause significant side effects.
Smell and taste of Banana Kush auto
As the name suggests, Banana Kush offers a wonderfully sweet banana flavor.
And aside from the sweet fresh bananas scent, her dominant terpene, limonene, also produces an odor reminiscent of piney floor cleaner and hints of citrus.
Origin of Banana Kush auto marijuana seeds
From an impressive genetic lineage of South Indian descent consisting of OG Kush x Banana x White Widow x Undisclosed Ruderalis genes, Banana Kush auto seeds originate from the West Coast and rose to become a favorite in many popular US medical marijuana dispensaries. Additionally, Banana Kush weed enjoys a widespread fan base throughout the US and Europe.
By adding Ruderalis genetics, Banana Kush auto not only offers all the exquisite flavor and aromas but finishes in the nick of time.
The best Banana Kush auto seeds for sale at Weedseedsexpress
Are you looking to buy high-grade premium weed seeds? In the market for Indica, hybrid or Sativa strains with refreshing fruity flavor, or any of our other THC heavy strains? We got you covered and offer the perfect marijuana seeds for experienced growers and novices.
Banana Kush is an Indica dominant autoflowering strain that will undoubtedly please any connoisseur of premium weed with its wonderful, intense banana flavor.
The outstanding Banana Kush autoflower marijuana seeds are now for sale at Weedseedsexpress. Order them today and prepare for a big harvest of high-grade premium weed.
Payment & Delivery
You might also like these seeds
Banana Kush autoflower seeds alternatives