Acapulco Gold
autoflower seeds
What is better than finding a gold nugget? Growing your own Acapulco Gold! Now easier than ever with Acapulco Gold autoflower seeds!
Jump to description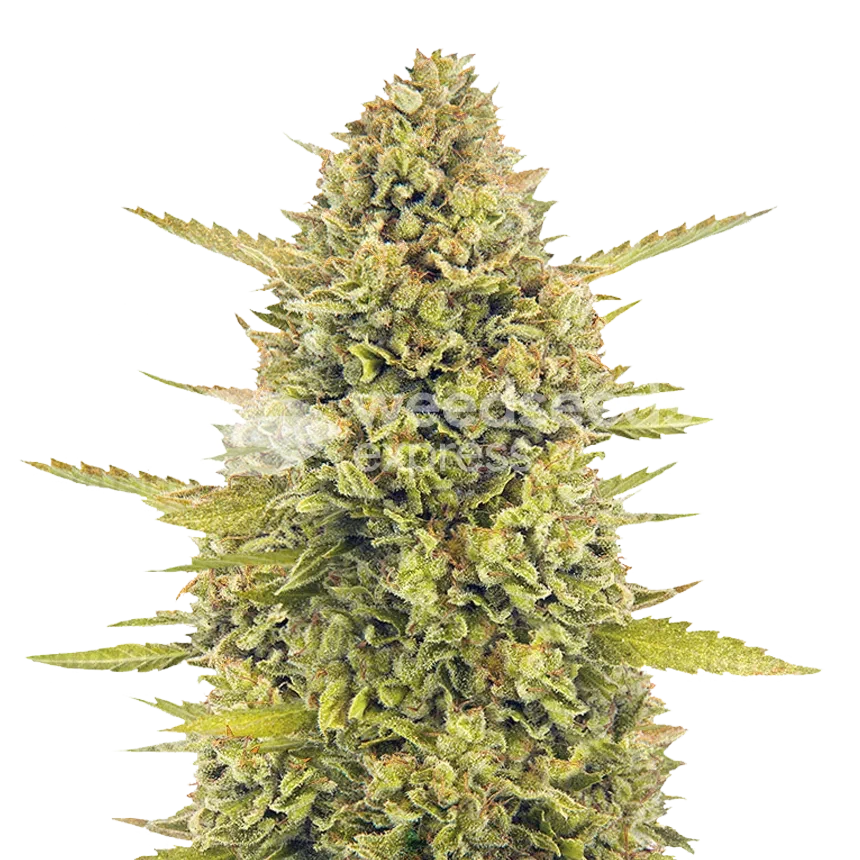 Acapulco Gold autoflower Strain Info
Genetics
Acapulco Gold x Ruderalis
Yield indoor
500-600 grams per m2
Yield outdoor
450-550 grams per plant
Height outdoor
110-170 cm
Flowering time
56-70 days
Cultivation
Greenhouse, Indoor, Outdoor
Climate
Arid, Mediterranean, Temperate
Flavors
Earthy, Pine, Sweet, Sour, Citrus, Fruity, Lemon
Effects
Creative, Energetic, Uplifting, Social, Happy
Terpenes
Alpha Pinene, Linalool, Humulene
Acapulco Gold autoflower seeds
Acapulco Gold auto is considered a top-notch cannabis variety, and these sativa weed seeds were even declared one of the 25 greatest strains of all time by High Times in 2014.
Originating in the eponymous city of Acapulco, Mexico, where the hot and humid climate played a key role in the creation of her distinct flavor and effects. Now with this Acapulco Gold x Ruderalis version, it's easier than ever to bring this stain of cannabis seeds to your own home.
Continue below to find out why growing Acapulco Gold autoflowering seeds will turn your growing space into a true El Dorado. If you are looking for even more golden buds, and have the patience to wait a little longer, then also take a look at our Acapulco Gold feminized seeds.
Why buy Acapulco Gold autoflowering seeds:
Stunning plants with a beautiful golden hue

Potent Sativa dominant hybrid strain

Rare and much sought-after autoflower version of famous landrace seeds

Seeds are feminized for a 100% female crop

Easy to grow, cannabis seeds for beginners
Flowering time
While the flowering period for Acapulco Gold autoflower does not differ too much from her feminized counterpart, eight to ten weeks, the biggest gain is in the very short vegetative phase.
This allows you, like with most of our autoflower seeds for sale, to enjoy a bountiful harvest of Acapulco Gold weed twice per season when grown outdoors!
Yield
Despite the extremely short vegetative phase and relatively brief flowering period, Acapulco Gold autoflowering plants will still treat you to a surprisingly high yield of amazing buds.
Grown indoors, Acapulco Gold autoflower will yield about 500 - 550 grams per square meter under optimal conditions.
Outdoors, this magnificent strain truly amazes, with no less than 450 - 550 grams per plant. These numbers make her a true member of our high yield autoflower seeds family.
Effects
The uplifting cerebral high kicks in almost instantly and this energetic sensation lasts for quite some while.
On top of that, the Indica influences in Acapulco Gold autoflower also ensure an unwinding body high that relaxes the muscles. All of these effects combined provide the user with a sense of complete and utter bliss.
The medical benefits of Acapulco Gold auto's effective mood-enhancing effects can be a useful aid for those suffering from stress, anxiety, and depression. Her potent analgesic and anti-inflammatory properties can be beneficial in treating minor pains and common conditions like headaches, back pain, and arthritis.
THC Level
Acapulco Gold's high THC content of 24% makes these old-school Sativa auto seeds a popular choice with recreational and medicinal users alike.
Because of her potency, Acapulco Gold autoflower seeds are a classic addition to our high THC autoflower seeds category.
Smell & Flavors
Acapulco Gold's unique combination of terpenes makes her smell like a morning stroll in an enchanted pine forest. Delicious fruity, citrus scents with fresh notes of lemon and pine.
And your taste buds are in for a treat as well. Her smooth creamy smoke contains flavors of earthiness, robust citrus, and pine. A surprisingly sweet toffee aftertaste finishes her amazing and versatile taste palette.
Height
Acapulco Gold autoflowering marijuana seeds grow into plants that will reach an average height of 100-150 cm indoors.
Outdoor growers, planting their seeds under the open sky, can expect their Acapulco Gold autos to reach an impressive height of up to 170 cm.
Origin
As one of the most potent Sativas ever, the Acapulco Gold strain came from Mexico's Pacific coast to America in the 1960s and 1970s. There she gained international fame when she was mentioned in the cult classic film "Up in Smoke" featuring the infamous stoners Cheech and Chong.
From that moment on, there wasn't a cannabis enthusiast alive that didn't "want to get high" on this exotic blend.
Mixed with Ruderalis, this mysterious strain has been made even easier to grow, and faster too, with a shorter vegetative period.
Grow Tips
Suitable for indoor, outdoor, and greenhouse growing.

Thrives in a warm and sunny environment.

Keep relative humidity low to avoid excess moisture.

Buds have a golden appearance due to orange hairs and gold and brownish-green hues.

Top the canopy to stimulate vertical growth.

Prune for better light and airflow.
Why buy autoflowering Acapulco Gold seeds at WeedSeedsExpress?
Stellar Customer Support - Our company is built on customer service, and we aim to reply to all emails within 24 hours or less.
Germination Guarantee - We are confident in the quality of our cannabis seeds. That's why we guarantee that they will germinate. If they don't, we'll replace them for free.
Fast Worldwide Shipping - We pride ourselves on our fast shipping. With distribution centers in the US and EU, we can ship seeds to most of our customers as quickly as three days.
Free Seeds - Get FREE seeds included with any order when purchasing five or more seeds.
Payment & Delivery
You might also like these seeds
Acapulco Gold autoflower seeds alternatives