10 Super Autoflowering Cannabis Strains (2023 Update)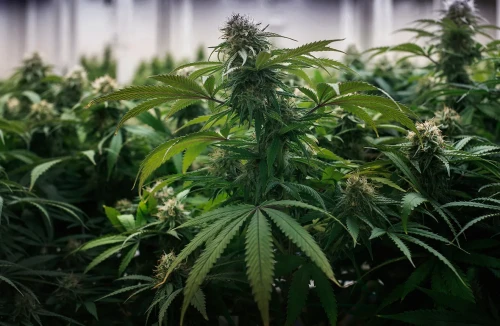 Super Autoflowers are the latest in a long line of strain developments.
Bred to be as potent and large as regular photperiod strains but as easy to manage as autoflowers, they are the holy grail for easy-grow harvests.
Super autos have even been known to grow larger than regular strains!
In this article, we'll look at 10 super Auto strains that produce super big yields.
1. Bruce Banner Auto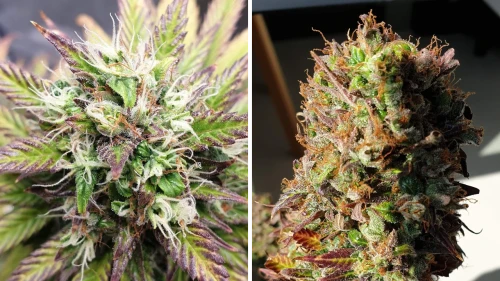 Bruce Banner is a hybrid of OG Kush and Strawberry Diesel.
Named after the famed green Hulk, it boasts powerful THC levels of up to 25%.
The plant itself produces tight, round buds that are smothered in sticky resin.
Bruce Banner is an easy-grow strain that's suited for beginners and experienced growers alike. From planting to flowering, you can expect your first harvest in just 10 weeks.
It's perfectly suited to indoor and outdoor growing, and it has a high fungal resistance to combat humidity.
The plant can grow to upwards of 150 cm in optimal, warm conditions. Indoors, expect a maximum height of 100 cm that can be kept compact and discreet, too.
Bruce Banner has a very appealing aroma of light summer fruits and berries. To taste, you'll find fragrant citrus, strawberries and forest fruits alongside a typical Kush note of hash.
2. Critical Purple Auto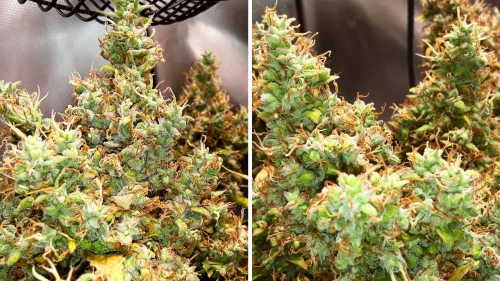 Critical Purple is a super-easy strain to grow that's compact and perfect for indoors.
A hybrid of Critical Mass and Big Bud, it boasts a high THC content that's associated with calming and long-lasting highs. The autoflowering element means that it requires little maintenance for your convenience.
This medium-height plant is suited for both indoor or outdoor cultivation. Perfect for busy lives and first-time growers, this strain enters the flowering stage on its own.
The flowering period lasts some 11 weeks, after which you can get a harvest of 300 grams per m² indoors. Outdoors, you can expect heights of 120 cm in warm, sunny conditions. Otherwise, indoor plants generally reach up to 90 cm and thrive in a hydroponic setting.
Critical Purple offers the perfect blend of candy sweetness and floral notes. Its flavor has been likened to rose petals and citrus with earthy, pine undertones.
3. Gelato Auto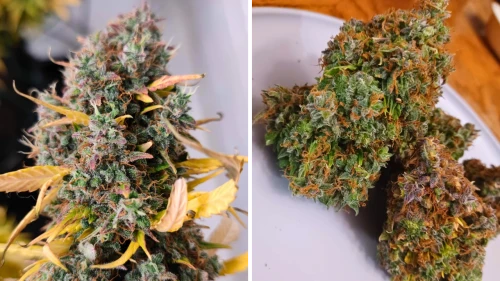 Gelato is a unique autoflowering strain that's rich in green, crystal-laden leaves. It's an easy to grow plant with an unusually high yield. With THC levels of 21%, it produces a sustained and creative high that's the perfect inspiration boost.
Gelato is a fine option for beginners that will delight experts too. It's suited to indoor, outdoor and greenhouse cultivation, although it thrives in warm and sunny climates. Indoors, it requires little maintenance and few nutrients. It can reach heights of 120 cm indoors and 160 cm outdoors. The harvest is fairly quick, with flowering taking between 8 and 10 weeks.
Gelato, as its name suggests, has a pronounced ice cream flavor. Discover aromas of berries, orange and lemon alongside sweet cookies and cream. To taste, there's a blend of sweet sorbet and earthy forest floor.
4. Girl Scout Cookies Auto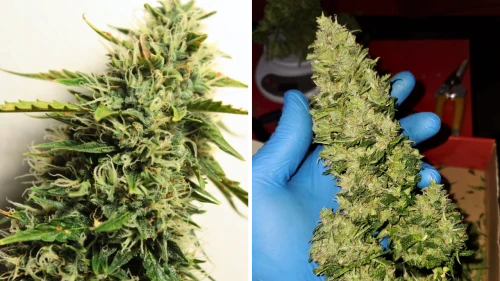 The Super Autoflowering Girl Scout Cookies seeds are easy to grow Californian varietals. Popular worldwide, they're renowned for their fresh and sweet aroma and high THC levels. Expect a sustained, quality high with relaxing and euphoric effects.
Autoflowering seeds make this easy-grow strain even simpler to cultivate. It's suited to indoor and outdoor growth, and thrives in a hydroponic setting. As its origins in California reflect, outdoor environments need to be warm and sunny for the best growth. You can expect heights of up to 130 cm indoors and 190 cm outdoors.
The Girl Scout Cookies strain offers a pleasant baked cookie scent of molasses and sugar with deep, dank earthy undertones. To taste, it's famed for its chocolate, minty notes and sweet citrus flavor.
5. Gorilla Glue Auto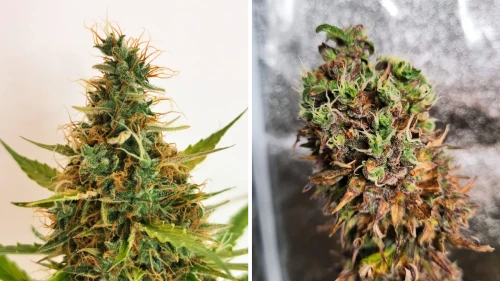 Gorilla Glue is a THC-high offering that's won numerous accolades worldwide. With a big, high and serious kick, it's noted for its uplifting and long-lasting effects. The resin produced is so thick and sticky that it gained its name "Gorilla Glue".
This easy-grow strain can be grown outdoors and indoors easily. It has a high mold resistance profile, making it an ideal no-nonsense plant. It also doesn't require significant light to bud. While quick and easy to grow, you can expect a yield of up to 200 grams per plant. It grows up to 100 cm indoors and 150 cm outdoors. Indoor growth is recommended for the most controlled and predictable yields.
Gorilla Glue offers a forest-like aroma of rich pine and cedarwood. Beneath this, you'll discover a pungent, mossy aroma with undertones of wild berries and cherries. The taste is similar, with powerful woody and earthy notes and a turpentine hit from the THC. Enjoy spicy, chocolaty accents with a hint of sweetness.
6. Green Crack Auto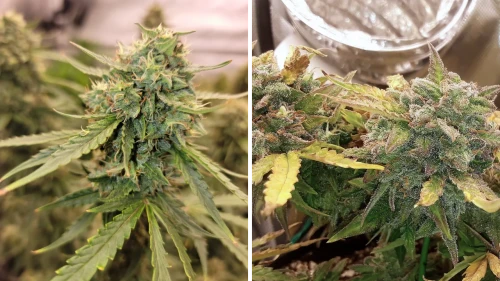 Green Crack is a potent Sativa-dominant strain that's a hybrid of Afghani and 1989 SSSC Skunk #1 strains. Renowned for its potency and high THC, it's widely chosen by many medical cannabis users. The high is associated with energizing and uplifting effects, which help combat fatigue and stress.
Green Crack is suited to indoor and outdoor cultivation, and is particularly popular with beginner or inexperienced growers. That's because the autoflowering qualities require little maintenance and attention while still providing a generous yield. If growing outdoors, warm California-like climates are ideal. If weather is an issue, pot this beautiful plant indoors. It can be extremely compact, ranging from 60 to 90 cm indoors and resembling a Christmas tree. Outdoors, it can reach heights of 125 cm.
Green Crack has a uniquely tropical aroma and taste, with notes of papaya and mango. Predominantly fruity and floral, you'll also discover spicy notes like cracked black pepper and chili. The smell is reminiscent of apple juice with dank, grapefruit and citrus alongside earthy notes.
7. Blue Dream Auto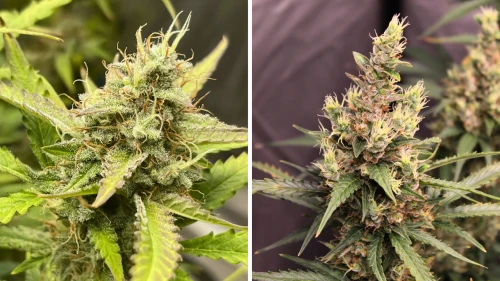 Blue Dream is exactly as it sounds - a beautiful blue and purple plant that's beloved by many growers worldwide. It has received much praise for its balanced and sustained high, which is associated with giggly and relaxing effects. While originating in California, it's grown in popularity in the UK, where it can be grown perfectly indoors.
Blue Dream suits indoor, outdoor and greenhouse growing. Because of its West Coast roots, a hot, sunny climate is ideal. Otherwise, you can grow this easily indoors. What's more, the high fungal resistance means that it's hardy and convenient for first-time growers. It's one of the faster-growing autoflower varieties, with a flowering period of 6 to 8 weeks. Indoors, you can expect heights of 75 cm, making it among the most compact options too. Outdoors, this lush, blue plant can grow up to 125 cm.
Blue Dream boasts a pleasant aroma of sweet berries, grape and fruit juice. The taste is similar, with rich and sweet fruity flavors with undertones of pine and grass.
8. Super Skunk Auto
Super Skunk is an Indica-dominant strain that was created by crossing Afghani with Skunk #1. It's a favorite of Dutch coffee shops that's renowned for its balanced and relaxing high. It's particularly favored with medicinal users due to its help in reducing pain and stress.
Super Skunk is an ideal plant for indoor growers that is adaptable to warm outdoor climates too. Sunshine is key for those planting outside, where it can reach heights of 130 cm. Indoors, it's an easy-grow strain with multiple harvests per year. Expect a flowering time of between 8 and 10 weeks. More experienced growers will benefit from utilizing training methods like cropping and LST. It's a fairly conspicuous plant indoors, with heights of 90 to 110 cm.
Super Skunk does exactly what it says; it provides a rich, skunky flavor. You'll discover rich aromas of citrus and orange, alongside floral notes of lavender. The flavor profile is fruity and earthy, with sweet undertones like candied lemon.
9. Tangerine Dream Auto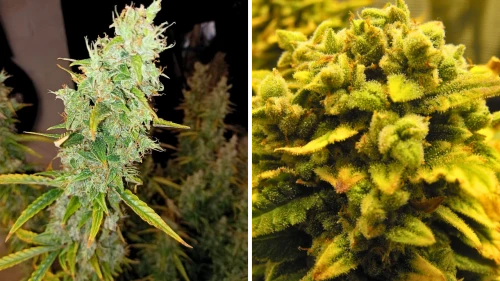 Tangerine Dream is an immensely popular strain that's easy to grow with autoflowering seeds. Crafted for restful, medicinal use, you can expect an uplifting and relaxing high that's perfect for clearing the mind. A perennial favorite in Amsterdam, it's a richly fragrant plant that balances a relatively high THC level with calming CBD.
Tangerine Dream is easy to grow indoors and outdoors with autoflower seeds. It's a highly resistant plant that requires little attention and is easy to manage. It's also fairly hardy when growing outdoors, suiting temperate climates. Indoors, you can expect heights of 100 cm and a long flowering time of between 10 and 12 weeks. Yields are higher outdoors in optimal conditions, although indoor growers can enjoy 300 grams per m².
Tangerine Dream is expectantly orange in its flavor profile, with citrus notes and a slightly sour taste. The aroma begins with earthy, woody notes before revealing luscious fruits.
10. Zkittlez Auto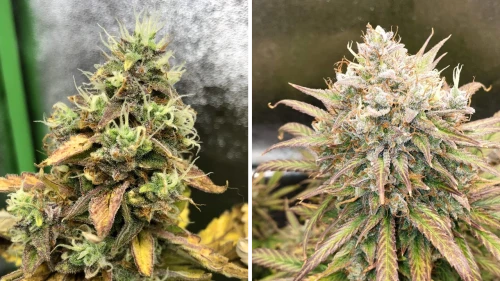 Zkittlez is an Indica-dominant strain that's won numerous accolades worldwide. Renowned for its sweetness and rich, fruity aroma, it produces multicolored colas that are a dream to behold. It's also high in THC, producing a cerebral high that's noted for its euphoric and relaxing qualities.
Zkittlez is a robust and hearty plant that's easy to grow but also fun for the most experienced growers too. It suits both indoor and outdoor environments, although it thrives best in warm and sunny Mediterranean climates.
Growing indoors, this plant loves nutrients, so be sure to care for its thirsty roots for the best results. You can expect compact heights inside just 50 to 75 cm. Yields can double in size outdoors, but the harvest of 100 to 150 grams per m² indoors is well-loved for its quality.
Enjoy sweet berry aromas and earthy undertones not dissimilar from a raisin chocolate bar. Its flavors open up with stone fruit and mango, with dank notes of grapefruit and pine.
Super Autoflower seeds for sale at Weedseedsexpress
Super auto seeds are the perfect solution for newcomers to growing or busy schedules. They don't require the attention or care that regular seeds do, and can be grown in adaptable surroundings. Looking for a THC-rich strain or a relaxing and balanced CBD profile? Buy autoflowering seeds at Weedseedsexpress.