How & Where To Buy Cannabis Seeds in the USA (2023 Update)
With ever-changing cannabis laws here in the USA, finding and buying high-quality cannabis seeds can be confusing.
Our US customers are often confused about whether cannabis seeds are even legal to buy.
This article covers the basics of buying cannabis seeds in the USA, including where you can legally purchase them and some tips for finding the best local and online vendors.
Need more help? If you have any more questions about buying cannabis seeds in the USA, please email us at [email protected] - one of our experts will be happy to help.
Key Takeaways
In 2022, the DEA confirmed that purchasing cannabis seeds is legal in all States as they contain less than 0.3% THC, which means they are classed as hemp, and their sale is not restricted.
Growing cannabis is legal in many US States, but you need to read your State laws and regulations before you start (see below)
Although some local dispensaries and headshops sell seeds, ordering seeds online is cheaper, more convenient, and more discreet.
When ordering seeds online, always buy from a seed bank that ships from inside the USA, as your seeds will arrive faster and won't pass through customs.
Before buying seeds, check your State's cannabis laws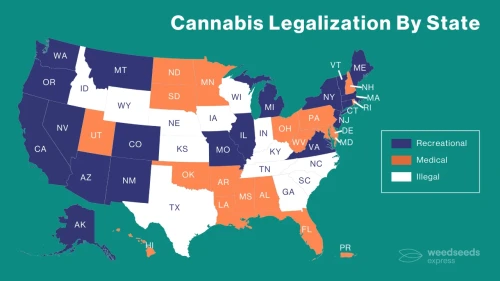 Cannabis laws differ across the US - some states allow recreational use, some permit medical use, and others prohibit cannabis entirely.
You must always research your state's specific regulations before attempting to buy or grow cannabis, as this patchwork of laws continues to evolve rapidly.
That said, when it comes to seeds, the federal laws are crystal clear.
The Drug Enforcement Agency (DEA) has stated that any plant material that contains less than 0.3% THC is classed as "hemp" and is, therefore, totally legal to buy and possess nationwide, no matter where your state stands in terms of weed legalization.
Although seeds can grow into high-THC plants, they do not contain any THC and are therefore classified as "hemp" under federal law.
With that said, before you go out and buy yourself a bunch of seeds, it's best to brush up on the laws currently in place for your state. It's only use spending your hard-earned money on seeds if you are legally allowed to grow them.


Can you order cannabis seeds to States where cannabis is illegal?
With the DEA classifying seeds as hemp products (due to them having less than 0.3% THC while in seed form) in 2022, you can legally order seeds anywhere in the US. Seeds are considered adult novelty items and, therefore, exempt from cannabis laws.
However, it's important to remember that while cannabis seeds may be legal to purchase, growing them is still illegal in certain states. Be sure to read up on your local laws before growing any plants.
Buying your cannabis seeds locally vs. online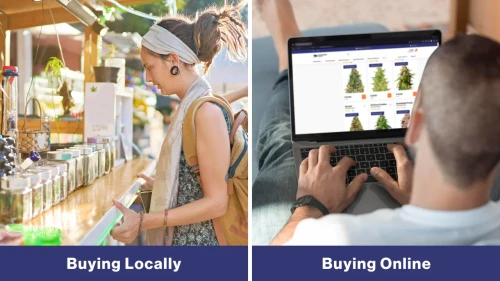 If you live in a recreationally legal state, then you'll most likely be able to grab some seeds from your closest dispensary, but for those in states where weed is still illegal, purchasing online may be your only option. 
Even if you can access seeds at your local head shop, you'll want to order them online. Here's why…
Local dispensaries stock a different range of genetics than you'll find through a reputable online seed bank
They rarely come with the same quality assurance and money-back guarantee should the seed fail to germinate.
Ordering online is also more convenient and discreet and usually much cheaper.
Most online seed banks offer free seeds with every purchase.
Their prices are often lower than what you'll find in-store.
Then, there is a plethora of real customer reviews that you can easily browse before making any decisions.
Here at WeedSeedsExpress, we have a massive range of high-quality cannabis seeds, with new strains being added regularly. We offer discreet shipping to every state, guaranteed germination on all of our seeds, and free seed deals.
Where to buy cannabis seeds in the USA?
Now that we have established the legalities surrounding buying and possessing cannabis seeds let's talk about your options for purchasing them.
1. From an online seed bank located in the US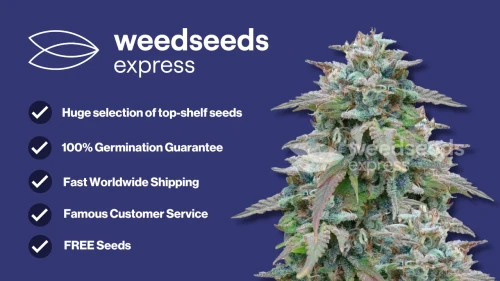 If you're ordering cannabis seeds online, then you must order from a seed bank that's located in the USA.
Never order from seed banks that ship internationally, as your seeds will take a long time to arrive and may be stopped by customs.
At WSE, we ship all our seeds from distribution centers inside the USA, meaning your seeds will be quickly (2-4 days) and safely.
We offer a large collection of regular, feminized, and autoflowering seeds (as well as a huge selection of CBD-dominant options) —  all the classics, the best new school genetics, and all the seeds for beginner growers.
2. From a local dispensary or head shop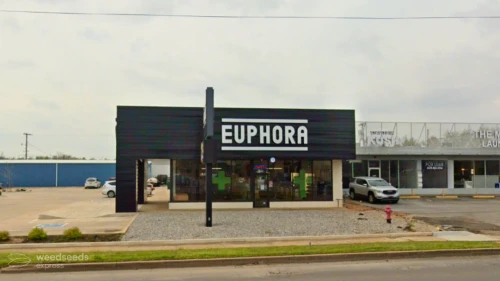 If you still prefer to shop in-store, you may be able to find cannabis seeds at your local head shop or dispensary.
Here are some excellent options to buy seeds locally:
Call them before visiting to ask about stock levels, quality assurance policies, and any guarantees or freebies they offer.

FAQs - buying weed seeds in the USA
Is it legal to order cannabis seeds online to home addresses in the USA?
Yes, 100%. As cannabis seeds contain less than 0.3% THC, they are classed as "hemp" and can legally be purchased and shipped nationwide.
How to avoid getting caught ordering seeds in the USA
While seeds are legal to buy and possess, you may still want to cover your tracks. When ordering cannabis seeds online, use a secure payment method like Bitcoin or credit card and select an anonymous shipping option such as "stealth" or "discreet." Otherwise, you can purchase seeds from a local dispensary or store and pay with cash to keep everything discreet.
What's the best payment method to use when ordering seeds?
Here at WeedSeedsExpress, we accept major credit cards, Cryptocurrency (Bitcoin or Ethereum), cash, money orders, and bank wire transfers. We also offer iDEAL payments, allowing secure and instant online transfers from your bank account.
Most buyers pay with their debit or credit card, which is the most convenient and secure payment option.
Do I have to provide a signature when my seeds are delivered?
No, you do not need to sign for any packages from us. All orders are sent in discreet packaging and will not require a signature.